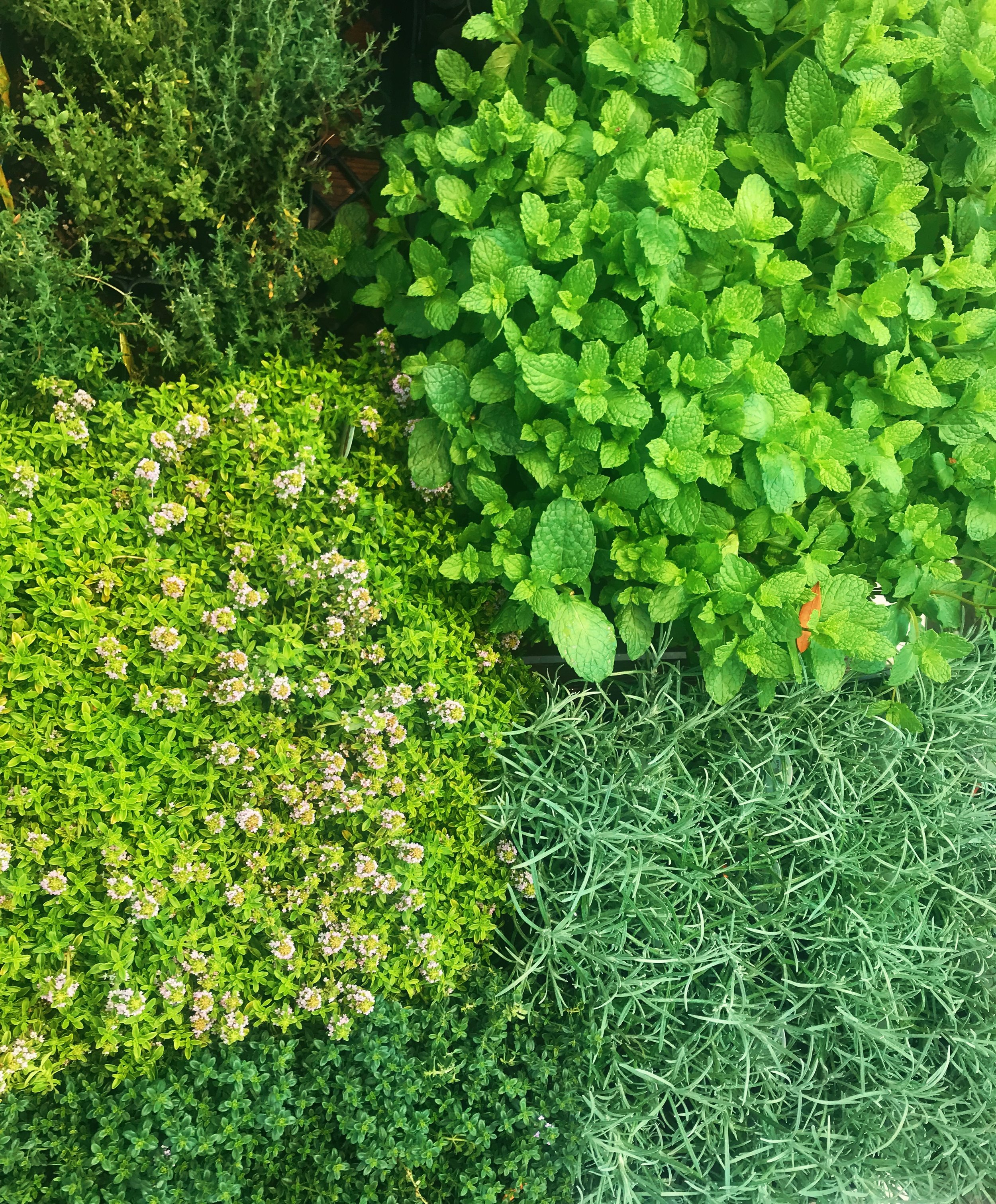 OUR BIGGEST SALE OF THE SEASON
Buy 4 plants, get 3 more for free. Applies to all OUTDOOR plants only. Check out our new arrivals here.
July 17 - 21, 2019
July 5th, 2019: Late Bloomer Varieties
POLLINATORS
hollyhocks
texas ranger sage
VEGGIES
toma verde tomatillo
persian cucumber
chinese green bean
waltham butternut squash
zucchini squash
vates collards
momotoro gold, bleeding heart, indigo apple tomatoes
felicity jalepeno, holy mole, big jim, violet sparkle peppers
japanese eggplant
MEDICINAL HERBS
oriental mugwort
huichol tobacco
purple hyacinth bean
lemon balm
HERBS
catnip
italian large leaf basil
lemongrass
morrocan mint
greek oregano
italian parsley
tarragon
lemon gold + pizza thyme
toothache plant
PEPPERS
aji dulce
hatch medium spice
thai hot
aji dulce
TOMATOES
chocolate sprinkles
sweet 100
juliet hybrid
aladin's lamp
box car willie
brandywine black
cherokee chocolate
la roma
madame maramande
sungold
VEGGIES + FRUITS + HERBS
armenian + market more cucumber
pineapple tomatillo
moon and stars melon
bright lights swiss chard
dinosaur kale
alpine strawberry
morrocan mint
nira
curled parsley
mitsuba
broadleaf sage
zucchini + cube of butter squash
MARCH 8 - 10. Over 80 varieties for you to choose from! Everything from big, small, determinate, indeterminate, yellow, orange, red, green, black, and swirled in between.
January 4th, 2019…
Artichokes, Cilantro and Thyme oh my!
lots of new goodies in the nursery this weekend.
Herbs include: Dill, Orange Thyme, Lime Thyme, Mint Chocolate, Lavender, Rosemary, Cilantro, lemongrass, Black sage
Greens and Goodies: baby kale, Tuscan kale, Swiss Chard, Fennel, Peas, Fennel, Mustard Greens, Bibb Lettuce, Cheddar Cauliflower, Celery
Edible Flowers & Sweets: Calendula, Violas, blueberries, blackberries, Golden Raspberries, Goji Berries
Spring 2018…Brad Gates Tomatoes
Over 70 Varieties of rare, hard-to-find Brad Gates Tomatoes in stock this season.
Add some members to your indoor plant family
And read a book on how to care for them while you're at it! See the full arrival list here.
ITS TIME FOR THE POLLINATOR.
POLLINATORS
zinnias
yellow buttons
echinacea
hollyhock
lavender
texas ranger sage
desert blaze sage
radio red sage
mexican bush sage
HERBS
amethyst + eleonora + sweet + sweet thai basil
lemon verbena
mojito + morrocan mint
spice island rosemary
french + pizza thyme
midnight mojito
OTHER VEGGIES + FRUITS
kushinsai
okra
momotoro gold + sungold tomato
sugar baby watermelon
red alpine strawberry
Ready for it? Fresh in on June 7th
PEPPERS
red savina habanero
shishito
purple jalapeno
7 pot bubble gum
FRUITS, VEGGIES y MAS
red alexander alpine strawberry
sorer japanese + persian cucumbers
black forest kabocha squash
passionfruit vine
charantais + melone retato degli ortolani melon
de milpa tomatillo
yard long green bean
gretel + thai round eggplant
HERBS
summer alfalfa
african blue basil
delectable corn
lemon balm
italian parsley
pineapple sage
french tarragon
toothache plant
1 GALLON TOMATOES
black cherry
black vernissage
cuban yellow grape
dark galaxy
ingigo apple
indigo rose
momotaro
sungold cherry
FLOWERS
French and African Marigold
oxalis burgundy
attar of roses scented geranium
VEGGIES
fairy tale + pintung long eggplant
velour purple bean
po'suwaegeh corn
GREENS
dinosaur + redbor + storm mix kale
georgia collards
red malabar spinach
oriole orange chard
HERBS
african blue + amethyst + lime + genovese jumbo + genovese pesto basil
korean chives
cilantro
goodwin creek lavender
chocolate + english mint
trailing rosemary
italian giant parsley
tricolor sage
coconut + lemon variegated + orange + english thyme
hopley's purple oregano
MEDICINAL HERBS
smoking tobacco
purple hyacinth bean
mullein
anise hyssop (40% off!)
Fruit Tree Sale + fresh tomatoes and veggies
Fruit tree sale May 17 - 19. 10% off figs, pomegranates, olives, jujubes, and stone fruit.
See our whole list of availability here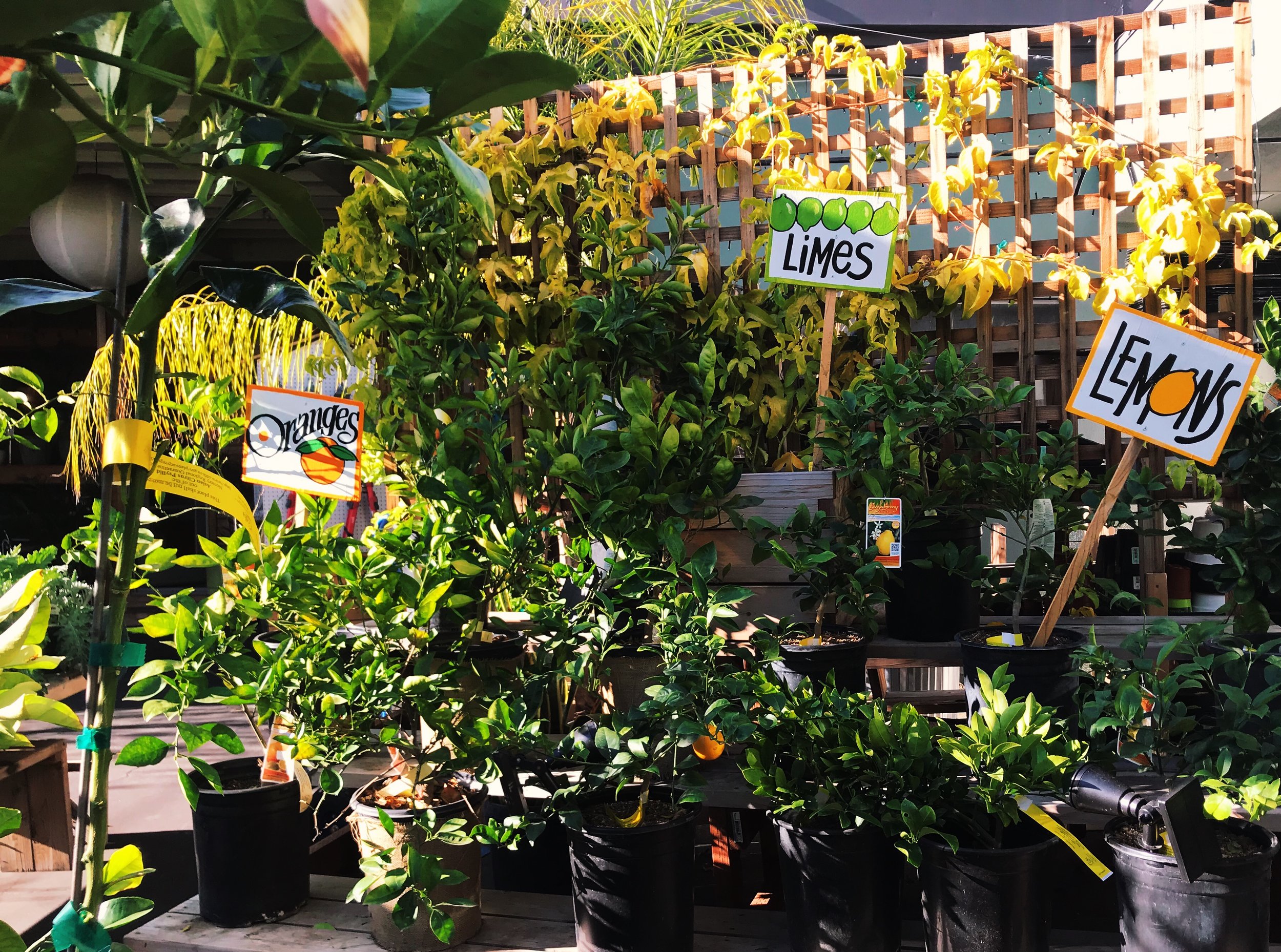 January 23rd…Beautiful Citrus in this Week!
plus lots of new tools and items for fruit tree planting
Citrus: Pomelo, Buddha's Hand, Mexican Lime, Ruby Red Grapefruit, Meyer Lemon, Eureka Lemon, Yuzu
Bare Root Fruit Trees: click here for selection
Greens and Goodies: Spinach, Arugula, baby kale, Tuscan kale, Swiss Chard, Peas
Edible Flowers & Sweets: Passionfruit, Scented Geraniums, Calendula, Violas, blueberries, blackberries, Golden Raspberries, Goji Berries
Give the gift of growth this year
We have gift certificates in all amounts for the ones you love most.
Romanesco Broccoli
One of the oldest known leaf vegetable consumed by humans, watercress is chock-full of good things for your body. We're talking rich in vitamins A, B6, C, and K, riboflavin, calcium, manganese, and folate all the while being low in carbs, protein, and dietary fiber.
Holy Basil
Considered a sacred plant in Indian culture, this variety of basil makes the best purifying, anti-stress tea and infusion. It's supposedly also good for getting rid of mosquitoes.
German chamomile
Another plant for your teacup! Chamomile is used for it's calming and soothing properties. The beautiful white and yellow flowers are beautiful for the garden, too.
Tons of leafy greens including Beira (Portuguese) Kale, Siberian Kale, Tuscan Kale, Dinosaur Kale, Collard greens, Chinese Cabbage, Swiss and Rainbow Chards
And some specials just in include gorgeous Romenesco Brocoli, Purple Fava Beans, White and Red cabbage, Purple carrots, Utah Tall Celery.

Don't forget the flowers! Calendula, Zinnia, Purple and yellow Viola, Marigolds. And there's also lots of Alpine and Albion Strawberries.
zinnias add a dramatic display in a garden. They are edible, along with everything else we have at the nursery, and are a beneficial plant for your vegetables, attracting good insects to help your garden out.